What is financial resolution
A financial resolution is a commitment you make to yourself to achieve specific financial goals that can improve your economic well-being. A financial resolution helps in attaining particular financial goals, such as paying off your debt, saving for retirement, improving your credit score, or saving to buy a new electric vehicle.
Why financial resolutions are important
Making financial resolutions is vital because it can give a clear understanding of the current economic situation and identify where improvements can be made. The financial resolution also involves regular spending tracking and creating a budget that ensures you stay on track to achieve financial goals. Finally, seeking professional financial advice and regularly reviewing and adjusting their financial plan can help individuals stay motivated and make meaningful progress toward a more secure financial future.
6 steps for sticking to your financial resolutions
Making financial resolutions is easy if you want to save and improve your economic well-being overall. What's important is that you stick to them, especially in 2023, so you can look back at the end of 2023 and see how much progress you have made.
Set SMART financial goals
You can achieve your financial goals by setting up SMART goals. SMART in financial planning is a short form for Specific, Measurable, Attainable, Realistic, and Time-related. A comprehensive way to set specific financial goals that are realistic and set up to achieve within a time frame say a month or a year. Any financial plan that is not defined and unrealistic is prone to failure no matter how much time you give. If you have to pay a debt, clear a credit card bill, or make a down payment for any product, clearing that as a priority will make your financial goal attainable and realistic. If the debt is incurring and is not taken care of, then you can't measure the progress of financial goals.
Make a Budget and track your spending
Creating a budget is crucial as you can allocate your income or if you have a passive income to bills, groceries, shopping, and other services. Budgeting also helps you analyze which part is taking a more significant chunk of your budget.
Once the budgeting is finalized, you can easily follow spendings to save. For example, if shopping is taking a sizeable chunk, then cutting spending on shopping will help you achieve your financial goal.
Automate savings and bill payments
It gets easier to achieve financial goals if the process of bill payments is streamlined. After all, one can forget due to workload or other pressure, so it is vital to keep a tap on dates so you can clear in advance to avoid fines and late charges.
The amount you are saving in your current account loses its value due to inflation. Transfer that amount to a savings account or investment account. It has two benefits; you get a return on your savings, and you get to avoid the temptation to spend money from time to time.
Review your plan regularly
It's critical to frequently examine and modify your plan because your financial condition and ambitions may change over time, or you may get complacent thinking that everything is on track. Also, reviewing your financial plan entails changing your investment approach or altering your spending plan. As the end goal is financial independence, reviewing and modifying will always help.
Investment can only help you meet your financial objectives and secure your future. Invest according to your level of risk tolerance. You can create a diversified portfolio because putting all your bets in one place is never a good idea. A diversified portfolio helps in minimizing risk and safe returns. Investing enables you to increase your net worth and acts as a means to counter inflation.
Celebrate small victories
Finally, it is essential to maintain motivation by recognizing tiny accomplishments along the road. Recognizing your achievement, whether it's paying off a credit card bill or reaching a savings milestone, will help keep you encouraged to keep working toward your financial goals.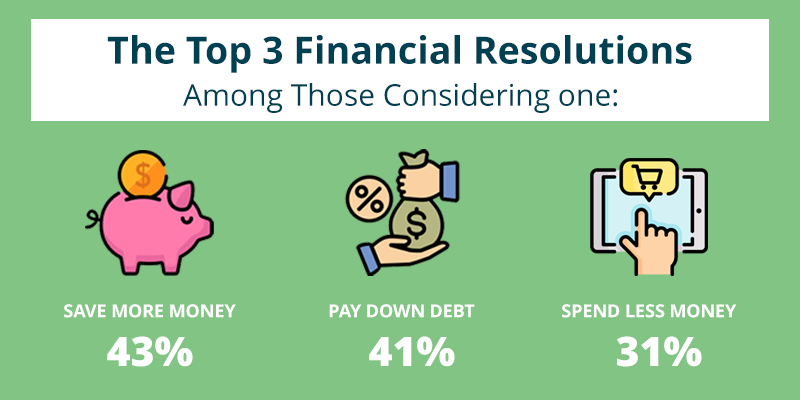 Conclusion
If you follow the above-mentioned financial suggestions to take the first step in 2023, you can reach your short-term and long-term financial security and stability. The key to achieving financial goals is maintaining consistency and striving until you achieve financial freedom.
Was this article helpful?